MESOPORATION
The daily look in the mirror reveals the small traces of aging. Small wrinkles on the eyes and upper lip, various redness on the cheek or nose, acne, scars or bags under the eyes disturb our attitude to life.
If these problem areas are to be treated effectively, conventional cosmetic care products are often ineffective. Why? – Because they cannot overcome the natural skin protection barrier and therefore have virtually no effect. However, in order for the skin to respond positively to the active ingredients, they must get under the skin, only then will they be able to have the desired effect.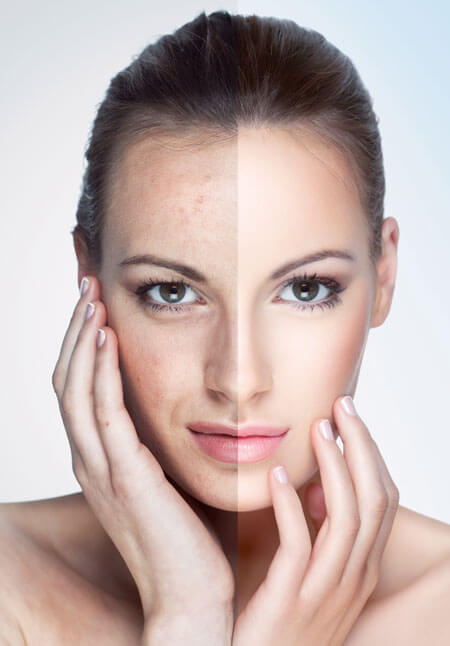 Treatment photos
We work with a newly developed technology. Two components (ultrasound + high voltage) are used simultaneously, which thereby reinforce each other in their effects. The care substances can thus penetrate the skin more deeply and in much higher concentrations.
At the same time, a high-voltage impulse activates muscles (and thus builds muscle), increases blood circulation, activates lymph and tightens the connective tissue.
Metabolic activation
Circulation increase
Purification
Activation of collagen and elastin production
Peeling
Drug penetration (sonophoresis)
Muscle activation
Circulation increase
Lymph activation
Tissue Tightening
Bodyforming
Drug penetration (electroporation)
Stoffwechselaktivierung
Durchblutungssteigerung
Entschlackung
Aktivierung der Kollagen und Elastinproduktion
Peeling
Wirkstoffpemetration (Sonophorese)
Muskelaktivierung
Durchblutungssteigerung
Lymphaktivierung
Gewebestraffung
Bodyforming
Wirkstoffpenetration (Elektroporation)
Stoffwechselaktivierung
Durchblutungssteigerung
Entschlackung
Aktivierung der Kollagen und Elastinproduktion
Peeling
Wirkstoffpemetration (Sonophorese)
Muskelaktivierung
Durchblutungssteigerung
Lymphaktivierung
Gewebestraffung
Bodyforming
Wirkstoffpenetration (Elektroporation)